OUR STAFF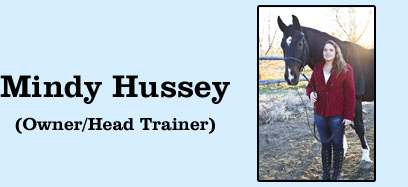 Mindy has over 25 years of experience riding and competing in multiple disciplines. She began competing in Utah at a very early age in hunters and jumpers. She moved into eventing at the age of 12, starting and training her own horse to Intermediate level and competing as an Area Young Rider. In 1995 she moved to England to become an assistant to Sandy Pfleuger, Olympian and 2x WEG Dressage and Event rider. From there she moved to Germany to train with the great Georg Theodorescu, internationally renowned dressage rider and trainer, at the prestigious Gestut Lindenhof stables. After a year with the Theodorescu family gaining invaluable training in dressage and jumping, as well as the development of young sport horses, Mindy returned to the US. Back home in California, she rode and trained with Heather Bender in Los Angeles where she competed successfully in the Young Riders program winning numerous CDS and USDF National awards. During this time she also rode and showed hunter and jumpers for Summerland Farms in Newhall, CA. Mindy has had wonderful opportunities to ride with and learn from some the top names in the Equestrian world including Hilda Geurney, David O'Conner, Hap Hansen, Blyth Tait, Betsy Steiner, and Capt. Mark Phillips. Mindy holds a BS degree in Nursing from Westminster College.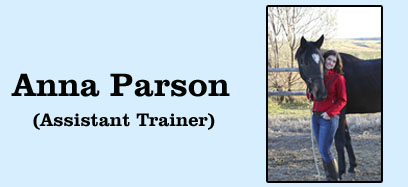 Anna has over 15 years of experience riding, showing, and training hunters and jumpers in Southern California and Eastern Idaho. She started riding at the age of 6 and at 12 she began riding with the well-known and highly respected team of Kandi and Rusty Stewart at Gray Fox Farms in Camarillo, CA. By the age of 17 she was an assistant trainer at the farm. She joined Mindy Hussey at Clockwork Farms in 2012. Anna has a first rate foundation in riding, horse care, and safety, as well as considerable experience in development of training programs designed for the individual horse and rider. She specializes in starting and developing the young rider.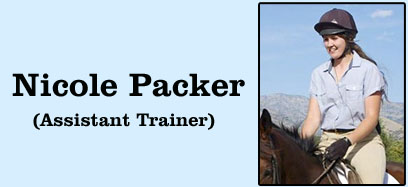 Nicole grew up in northern Utah and has been riding and teaching for over 10 years. Her riding background is in classical dressage, jumpers and eventing. She has experience starting young horses and training a variety of breeds, from warmbloods and thoroughbreds to drafts and quarter horses. Her early riding education included the privilege of riding and training under Ann Gilpin of Paradise Farm, Helena, MT, and Erik Herbermann, reknown dressage master & author of "Dressage Formula". Nicole developed and ran her own successful small horse lesson program in Logan, Utah. After high school, Nicole moved to Maryland as a working student at Bascule Farm, where she furthered her horse education in barn management, training, sales and competition. She has had the opportunity to teach a wide variety of students in Utah, Maryland, Alaska and now Idaho! Her passion for teaching leads her to find better ways to connect with her students and their learning style.