Lessons
Mindy Hussey (801-518-4167)
Sam Taggart (208-881-4032)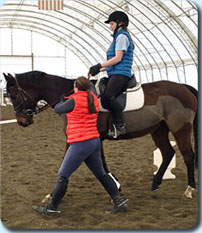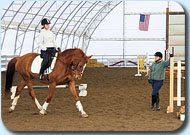 Clockwork Farms provides lessons for riders at all levels from beginner to advanced, pleasure rider to the highly competitive. We work closely with each client to develop a riding program to suit their individual needs and goals.
We have quiet well trained school horses and ponies available for lessons for those who don't have their own horse.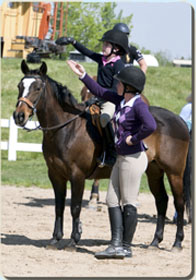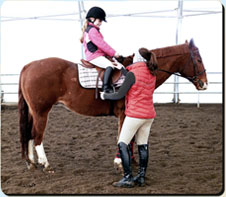 Horseback riding is great exercise and a wonderful all around experience so whether you want to start riding, want to get back to it, or want to get past a bad experience, our experienced trainers can help you overcome problems and achieve your goals. It is our personal goal to create for each of our clients a successful, safe, and totally enjoyable environment for riding.
Lesson Fees
Single Lesson: 
$45
Per Package of 8: 
$315
Please Note: All lesson Packages must be used within 90 days of purchase (exceptions can be made with advance notice).        
No-shows or lessons cancelled after 8:00AM on the day of the scheduled lesson will forfeit their lesson fee for that lesson.
Full Training
$330
Includes all boarding amenities
(See Board & Training)
and 4-5 training sessions/wk (lessons or training rides as needed). Board not included.
For more information or to schedule lessons contact:
Mindy Hussey (801-518-4167)
Sam Taggart (208-881-4032)